Piloted by Major Castle with Wish and Van Kirk as gunners.
---
---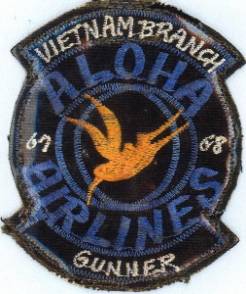 Aloha Airlines - Vietnam Branch was the Aviation component of HHC of the 3rd Brigade of the 25th Infantry Division and later changed to the 3rd brigade of the 4th Infantry Division August 1st, 1967. The OH-23 was the primary aircraft and in July/August 1968 received the OH-6a. Aloha also had one fixed wing U-6 Beaver, one OH-13S, one UH-1 for a short time period until sometime in 1967. This web site is an attempt to tell the story of this association of soldiers.
The Aloha Airlines - Vietnam Branch web site was originated by Dale Wishkaemper (Wish). It is because of his determination and hard work that the web site was possible. He is responsible in bringing a great number of us back in touch with each other.